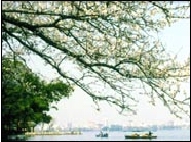 Hangzhou, the capital of Zhejiang Province, lies at latitude 120 east and longitude 30 north, covers an area of 430 square kilometres, inhabited by 1.3 million people, boasting a long history. State Wu, State Yue and Southern Song Dynasty once built their capitals here, making it one of the six ancient capital cities in China. It serves as the southern end of the Grand Canal as well.

The West Lake of Hangzhou city, is like a shining pearl inlaid on the vast land of China, holding high reputation for its beautiful scenery, a multitude of historical sites, brilliant cultural relics and a profusion of native products.

Hangzhou's silk products have found their way to all over the world ever since Tang Dynasty. So did the elegantly fragrant high quality Dragon Well tea, the ultimate product of all kinds of tea. Silk umbrella, Hangzhou fan, scissors, Chinese traditional medicaments, Chrysanthemum flower tea etc. are all noteworthy local products.

The present day Hangzhou administers two municipalities of Xiaoshan and Jiande, and 5 counties of Fuyang, Lin'an, Tonglu, Deqing and Yuhang. Its tourism has been extended from the West Lake area to another national scenic area of Fuchun River-Xin'an River Scenic Area, and to Tianmu Mountain Nature Reserve, to Mogan Mountain, to the Grand Canal and to the Qiantang River. Tourists from home and abroad are now exposed to a more splendid and more diversified landscape and historical sites in the south of the Yangtze River.